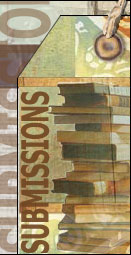 We look forward to reviewing your manuscript, but be advised that we receive publishing queries/manuscripts daily.
Please carefully read the instructions below.
1. Know what we publish before you query us. We publish general and military history. We are not seeking fiction or any other genres at this time. If your manuscript falls outside these parameters, please do not send your query.
2. Do not send your manuscript without first inquiring whether we are interested in viewing it. Instead, send us a brief query letter via e-mail. This letter must include the following information:
Working title and topic area (American Revolution, Civil War, WWII, etc.);


Thesis paragraph (what your work is about, and how it differs from other published works on the subject);


Projected length ( in words);


Estimated date of completion;


A discussion of the sources you are using to produce your manuscript;


A brief bio about you (education, background, and why you are qualified to write this book);



Any other pertinent details that may help us.

Please keep this e-mail query letter as brief as possible.

3. DO NOT include any attachments with this first e-mail. We do not need to see any of your work at this point.
Click HERE to send your email

If for some reason you are unable to comply and instead need to send us a letter, and you require a reply in writing (as opposed to a reply via e-mail), include a SASE. This makes it much easier and faster for us to answer your inquiry in a timely manner.
Savas Beatie
Attn: Submissions
989 Governor Drive, Suite 102
El Dorado Hills, CA 95762
Voice: 916-941-6896